Road Bear
Slide out Class A 30-32ft
Road bear is the right choice for a newer model and a bit more luxury. De RV's of Road bear are always a maximum of 1 year old.
The A30-32 is the only A Class RV of Road bear fleet. It is their longest RV, but still the ideal option for a roundtrip in the States. With the long, wide, big roads overthere there will come a moment that you dont even realize the size of the RV anymore, that it will become your home on wheels during this adventure.
The RV is suitable for 4 adults and 2 children. The layout is a bigger bed in the back, a cabover bed, and two smaller beds in the dinette and sleeping sofa.
The benefits of the C26-28ft are amongst other things, an internal walk-through acces, a slide out, a generator, an awning, toilet/shower, kitchen with fridge and an airconditioning.
Click here for a virtual tour through the RV
Road Bear
Slide out Class A 30-32ft
Premium supplier
Brand new vehicles
Pre checkin online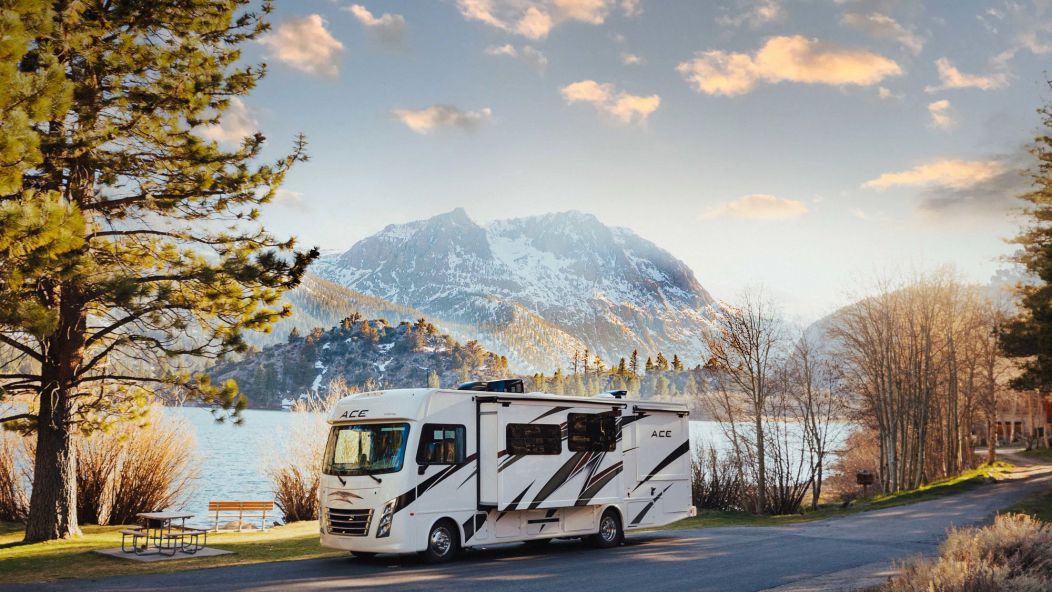 Road Bear
Slide out Class A 30-32ft
Premium supplier
Brand new vehicles
Pre checkin online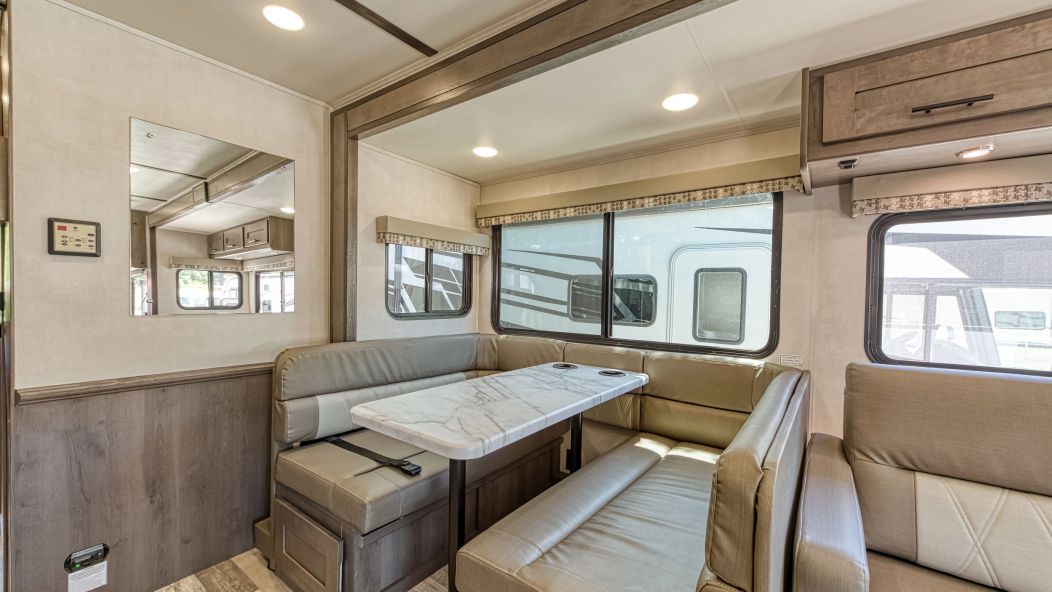 Road Bear
Slide out Class A 30-32ft
Premium supplier
Brand new vehicles
Pre checkin online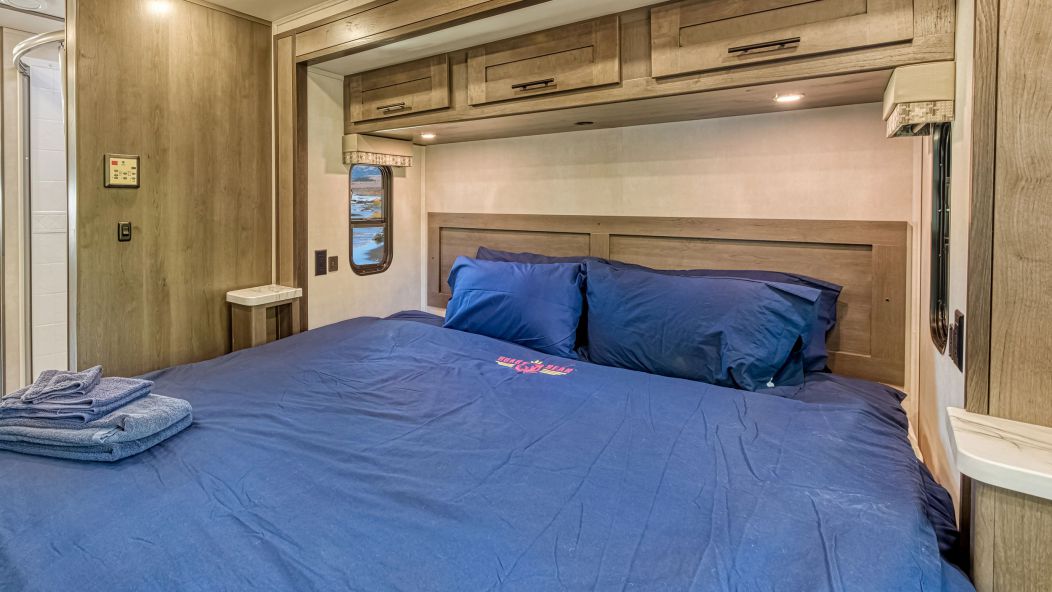 Road Bear
Slide out Class A 30-32ft
Premium supplier
Brand new vehicles
Pre checkin online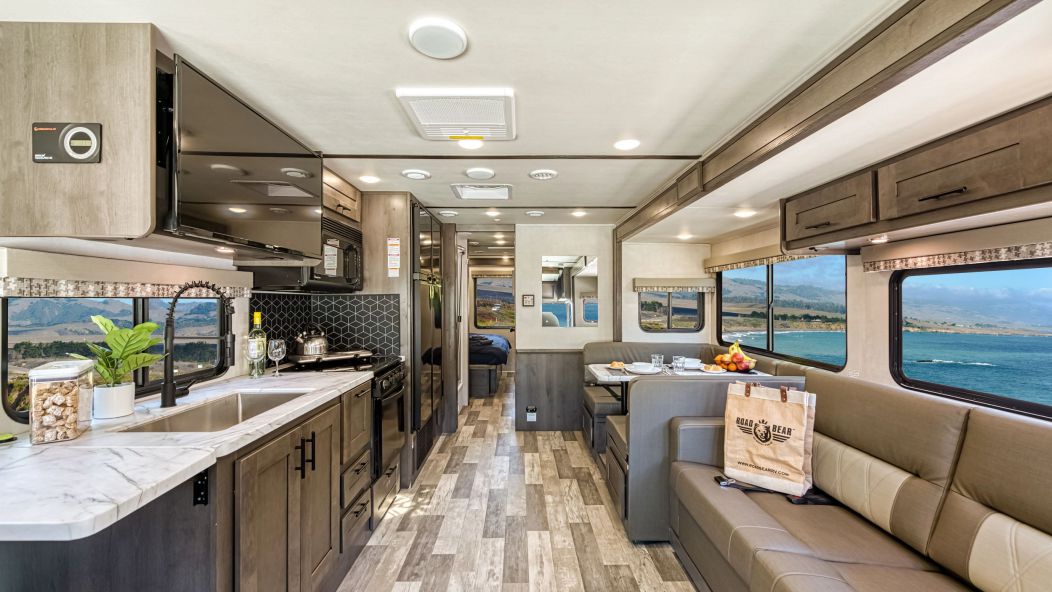 Road Bear
Slide out Class A 30-32ft
Premium supplier
Brand new vehicles
Pre checkin online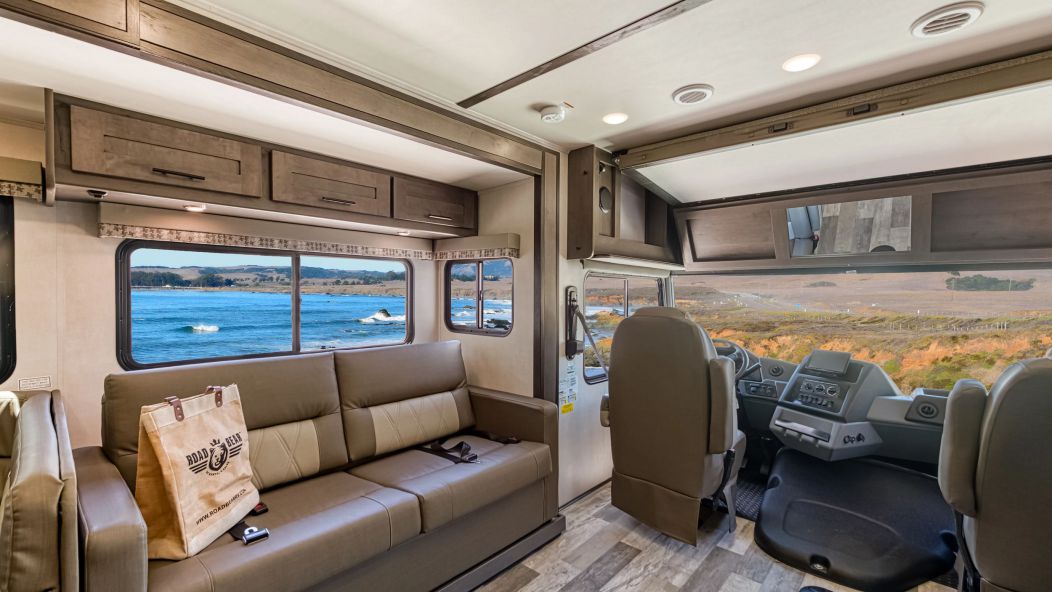 Road Bear
Slide out Class A 30-32ft
Premium supplier
Brand new vehicles
Pre checkin online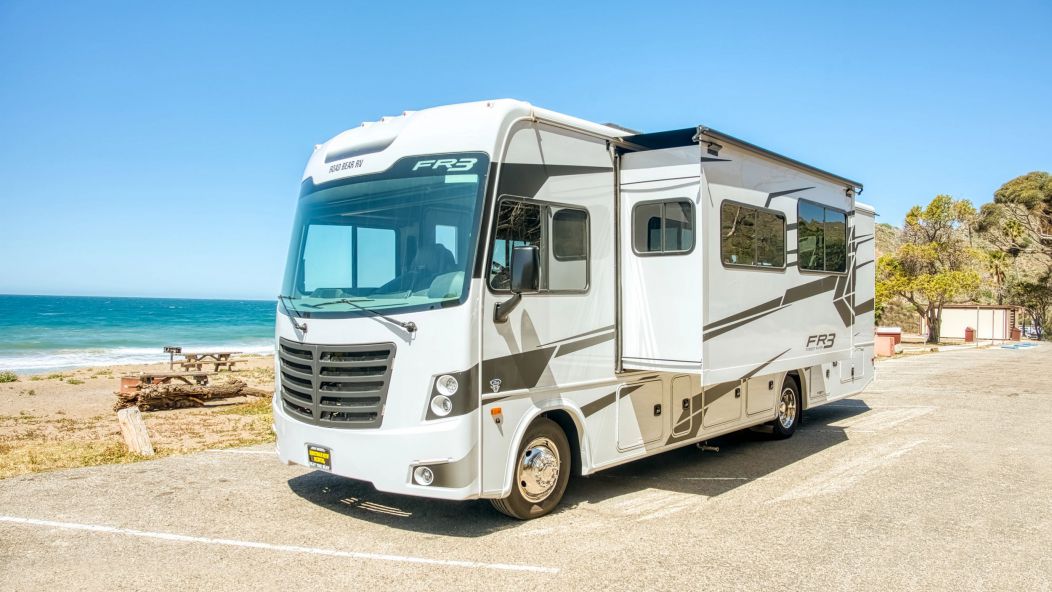 | | |
| --- | --- |
| Min. number of people | 1 |
| Max. number of people | 6 |
| Max. number of adults | 5 |
| Max. number of children | 4 |
| | |
| --- | --- |
| Fuel | Gasoil |
| Airbag | Yes |
| Dual Battery System | No |
| Cigarette lighter/charger | No |
| Waste Water Tank | Yes |
| Exterior storage bay | Yes |
| Propane tank | No |
| Grey/waste water tank | Yes |
| Fresh water tank | Yes |
| Engine Capacity | |
| ABS | Yes |
| Power Supply | 110/12-volt |
| Power Steering | Yes |
| No. of seatbelts | 6 |
| Cruise control | Yes |
| Airco Drivers's cabin | Yes |
| Internal Walk-through access | Yes |
| Heating Main Cabin | Yes |
| Toilet | Yes |
| Shower | Yes |
| Heating Driver's Cabin | Yes |
| Slide-Out | Yes |
| Airco main cabin | Yes |
| Solar Shower | No |
| Drivers License C/C1 | No |
| | |
| --- | --- |
| Width | 2.65 m |
| Length | |
| Interior height | 2.13 m |
| Exterior height | 3.95 m |
| | |
| --- | --- |
| AM/FM radio | Yes |
| CD-Player | No |
| Fly Screen | No |
| DVD Player | No |
| Fire Extinguisher | Yes |
| USB port | Yes |
| Generator | Yes |
| Rear Vision Camera | Yes |
| Awning | Yes |
| TV | Yes |
| Safe | No |
| Solar Panel | No |
| GPS | No |
| Tent | No |
| Bicycle Rack | No |
| Satellite dish | No |
| | |
| --- | --- |
| Dinette bed | 101 x 147 cm |
| Double bed | 152 x 190 cm |
| Bunkbed | - |
| Sofa bed | 99 x 172 cm |
| Overcab bed | 121 x 185 cm |
| Rooftop sleeper | - |
| | |
| --- | --- |
| Sink | Yes |
| Coolbox | No |
| Fridge | Yes |
| Microwave | Yes |
| Stove | Yes |
| Gas Bottle | Yes |
| Oven | Yes |
| Warm / Cold Water Supply | Hot and cold water |
| Freezer | Yes |
| | |
| --- | --- |
| Child seat anchor | Yes |
| | |
| --- | --- |
| Transmission | Automatic |