Discover Yukon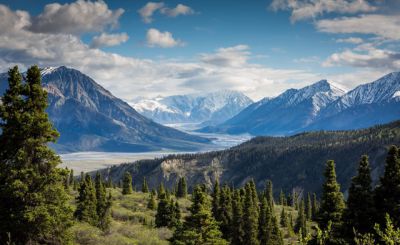 Our colleague Linda made a trip back in 2017 though Yukon territory. Out of all her trips to Canada, she found this one to be the most special and definitely one to never forget. Read about her highlights below.
Whitehorse
My Yukon-adventure starts in Whitehorse, the capital of Yukon. When you arrive at the airport, it feels small and cozy, something you might not immediately expect from a capitalcity. You only have one luggage belt and the shuttle transfer knows exactly what clients are coming and what hotel they will stay at. It is like coming home to a small village where everyone knows everyone. You have a couple of roads with traffic lights, but most only have pedestrian crossings. The pick up locations for Canadream and Fraserway are nearby the airport, so that makes life easy.
Later, I read that Whitehorse has 23.000 people living there, and I remember thinking: "where were they?"
Kluane National Park
The next morning I drove out of the ''city'' of Whitehorse and my Yukon adverture could commence. The first route to Haines Junction, brings me through the mountains, a truly breathtaking scenice route. You immediately notice that it's september, because the fall colours are everywhere. I am all smiles and love driving behind the wheel. It's amazing making your way through this foresty region.
The place Haines Junction, the final stop of today, is litterally a junction with a couple of small shops and bed & breakfast accommodations. This is the perfect gateway, if you want to visit Kluane National Park. This park has mountains that reach high in the sky, glacier lakes, ice fields and valleys. You can drive through the park or hike, but the ideal way, and my absolute number one recommendation, is to experience it from above. When I saw the small airplane, I was a bit hesitant at first, but it truly is an amazing experience. From above you realize how big and beautiful this National Park is.
Top of the World Highway
Up next is the drive from Beaver Creek to Dawson City, which takes you along the Top of the World Highway. After passing the Alaskan border I drive by places like 'Tok' and 'Chicken', too funny. A bit further down this route I cross back over to Canada and arrive in Dawson City. Crossing the border went very smoothly, you only pay a small fee, which gives you a ticket for in your passport. This grands you access to the United States. When crossing the border back to canada they take the ticket out.
Not only is this the fastest way to drive to Dawson City, the drive is beautiful and you can add a visit to Alaska to your bucketlist. Take a photo at the crossing point as a souvenir.
The drive over the Top of the World Highway is amazing, the unpaved road almost litterally brings you with your head in the clouds. You can look miles ahead and enjoy the breathtaking landscape.
Dawson City
Dawson City is like driving into a Western movieset, with saloons and cute wooden shops and houses. I arrived into Dawson City by taking a short ferry ride. When leaving the city on the otherside you can just drive out. Dawson City is the Goldmine City of Yukon. Back in the days, prime time, almost 40,000 people lived here, but currently this city has only 2000 inhabitants. A tip from me, find yourself a Sourtoe Cocktail to taste.
The story around the Sourtoe Cocktail is that a man lost a toe during the extreem cold weather and kept it in a bottle of alcohol to keep it preserved. The bottle was later found empty, after someone had drank it... including the toe! This story is kept alive in the city by serving the Sourtoe Cocktail. Luckily you can leave the toe in your glass, and you get a certificate for drinking it.
I stayed here for two nights, so I could also discover the Dempster Highway. By taking this road you can visit the Tombstone National Park, which showcases snowed mountain tops. Together with the bright blue sky, and the purple and yellow landscape, it makes for some impressive views. Since the Dempster Highway is off-limits to some rental company's I suggest going on a day trips with a guide. A big plus. is that the guide knows exactly where the best viewing points are.
Tagish
The last couple of nights I stay at the Southern Lakes Resort, a small resort with 5 little wooden chalets. It has a Swiss owner, which you can tell from the delicous food they serve at the hotel. For me it was the ideal location to sit back for a bit, relax and look back on all the amazing memories I have made so far on this trip. Moreover it was a great spot to experience the Northern Lights. And don't worry if you fall asleep, because they will wake you up if the Nothern Lights apears. They will create a camp fire, which you can enjoy together with the other guests in the hotel.
After two wonderfull nights I had to make my way back to Whitehorse, making one more stop along the way. Carcross Desert, a unique loaction within Yukon.
Back to reality
When arriving back in Whitehorse, it suddenly feels like a big capital city, after encountering so few people along my roadtrip. Yukon has "Larger than Life" as their slogan, which is definitely the right phrase for this region. Yukon is a piece of Canada, that I will keep close to my heart. An experience I will never forget.
Keep in mind that you are not allowed to drive every road in this part of Canada with an RV. So check the conditions of the supplier.