The famous Route 66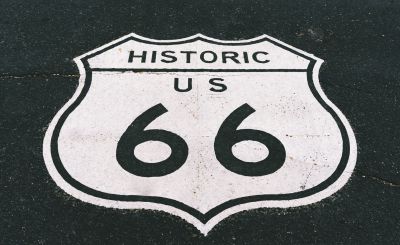 Are you ready to get your kicks on Route 66 and drive this famous route from the East all the way to the West? Follow in the footsteps of many American's that have travelled along this route and experience this touristic attraction. And even today hunderds of people still travel this route back and forth between Chicago and Los Angeles. In our opinion this is the ultimate American roadtrip.
The history of route 66
Route 66 find its origin back in 1926 and ever since it has been a symbol of American freedom. Not only did this route function as the main route for migrating from the East to the west and doing business, it also breath life into countless small towns. This exposed millions of Americans to different cultures and ways of living. The route grew in popularity and to this day it is one of the most famous roads in America.
A couple of fun-facts:
Talking about crossing those states off your bucket-list, while following this route you will cross a total of 8 states! Starting in Chicago, Illinois you will drive through Missouri, Kansas, Oklahoma, Texas, New Mexico, Arizona while finishing in Santa Monica, California. The longest stretch you will drive is through Oklahoma.
The total route is an impressive 2400 miles, or nearly 4000 kilometers. For comparisson, this is similar to driving from the top of Sweden, down to Spain.
Route 66 has had various nicknames over the years. For example the Will Rogers Highway and the Main Street of America. But the main one that stuck is 'the Mother Road'.
Back in 1928 300 runners set out to sprint across the country, following Route 66. Cherokee citizen Andy Payne took home the title, and you can still find a statue of him when driving through Oklhoma. When you're there, take a moment to consider how lucky you are to be reaching your destination on wheels (and in fewer than 570 hours).
Although parts of the original Route 66 are no longer accessible, you can still drive about 85% of the original road. On the way you will pass by highways, small streets passing by old towns and country roads.
Apart from the constant changing view ther is plenty to do along Rout 66. Visit the McDonald's Mueseum in California, explore a miles-long cave system in Missouri or book an overnight stay in the Wigwam hotel in Arizona. Every state has its own fun activities.
Example itinerary - Route 66
If you plan on driving the entire Route 66, starting in Chicago and finishing in Santa Monica, we would suggest you plan at least three weeks of travelling. Simply because there is so much to see and do along this road. By reserving three weeks it gives you enough time to take in all the different towns, activities and the ever changing scenery. Every stretch of driving is approximately 300 miles, covering a total of more than 3000 miles this whole trip!
Do you whish to extent your trip? Add a few days to explore another famous Road - Highway 1. This way you will have time to also enjoy the amazing Californian coastal scenery.
------------------------------------------------------------------------------------------------------------------------------------
Chicago - St. Lewis 300 miles
After some exploring in the Windy City, it's time to pick up your rental RV and to get this roadtrip started. While leaving Chicago behind and driving through the state of Illinois you will see farm land as far as you can look. As you cross from Illinois into Missouri you will cross the historic Chain of Rocks Bridge, which makes a turn halfway through. Be sure to make a stop at Ted Drew's Frozen Custard, who has been serving Route 66 travellers since 1929.
St. Lewis - Memphis 285 miles
Spending a day in St. Lewis should give you enough time to explore the city, its surroundings and a nice beer from one of many distilleries. Continue your trip by making a slight detour from Route 66, while driving towards Tennessee. En-route to Memphis, consider making a stop at the small town of Ste. Geneviève. Here you will truly step back into time.
When in Memphis, there is plenty to do. You could consider visiting one of the popular museums: the museum of American Soul Music, the Memphis Rock 'n' Soul Museum or The National Civil Rights Museum
Memphis - Springfield 280 miles
After our musical detour it's time to head back to Route 66 and to continue towards Springfield. ON the way there you will pass through the rural Ozark region
Springfield - Oklahoma City 300 miles
When leaving Springfield you will see the landscape change from the rich crop raising Midwest into the American southwest; red, dry and dusty. After a long drive you will reach Oklahoma City. If we may give a suggestion for nightlife? Make sure you visit Bricktown, a former warehouse district that has been reinvigorated with restaurants, cafes, night clubs and a vibrant atmosphere.
Oklahoma City - Amarillo 260 miles
Today you will enter Cowboy Country. Along this stretch of route 66 you will find a whole lot of nothing, but still a lot. Think of ranches with millions of acres, farms, and roadside motels.
Amarillo - Alberquerque 290 miles
Passing through New Mexico make sure to stop at Tucumcari to experience the unique and exotic culture, before continuting to Alberquerque, New Mexico's state capital. You can easily spend a total of 2 days in this city, as there is enough to see in the area. You could go on a day trip and visit Santa Fe, make a visit to the volcanos that are west of the city or spend the day in Rio Grande Botanical Garden or the Albuquerque Aquarium.
Alberquerque - Holbrook 230 miles
On the way between Albuquerque and Holbrook, you'll be entering the dramatic lands of western New Mexico and travelling through the Navajo Reservation. This drive is by far the most scenic in all of New Mexico.
Holbrook - Grand Canyon 125 miles
As we continue the roadtrip we once more leave Route 66 for a detour. The Grand Canyon is not actually on Route 66 but you couldn't miss an opportunity to see one of the Seven Wonders of the World! park you RV on the south rim and hike around and/or to the canyon.
Grand Canyon - Las Vegas 220 miles
Leaving Arizona behind, you drive towards the eight and final state of this roadtrip. The Golden State, California. Part of this strech runs along side the Grand Canyon so you can catch another glimps of this natural wonder, before entering Las Vegas, the neon oasis that never sleeps! You cannot leave Las Vegas without a visit to the famous Strip. Are you craving a good piece of meet after all this driving? Our suggestion would be a dinner at the Outback Steakhouse.
Las Vegas - Los Angeles 290 miles
Finally, after a journey through the Mojave Desert today, you'll reach the bright lights of Hollywood. Don't forget to make your way to the Santa Monica pier, where the Mother Road meets the Pacific Ocean. For many a dream has begun and ended on those beaches. And this is your cue to take out your phone and get that selfie, saying that you've completed Route 66!