Campgrounds and campsites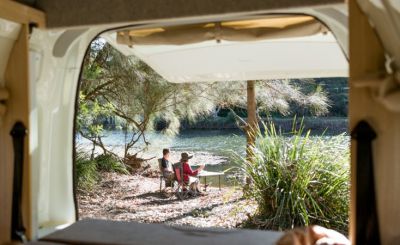 Traveling by camper or RV gives you the freedom to go wherever you want, whenever you want – and stay where you want too. There are thousands of campgrounds to choose from, in all sizes and all prices. Campgrounds can range from a smaller park with only a few dozen sites to national parks, kid-friendly campgrounds and deluxe parks complete with amenities like pools, shops and restaurants. With so many options, there is something to suit all travel parties sizes and preferences. For more details, please see the useful information below or please contact us for assistance.
Choosing a campground
Campsites
Typically campgrounds offer several different types of sites, ranging in facilities – from basic to Full Hook-up. Following are the most common types of campsites available:
A basic or primitive campsite does not have electricity, water or sewer hook-up.
A site with Partial Hook-up provides electricity and water (but no sewer).
A site with Full Hook-up means your site has electricity, water and a sewer. This allows you to fill up your fresh water tank and empty your grey/black water tank at the site.
You do not need a Full Hook-up site every night, as you can also use the generator in your rental vehicle for power. However, it is advised to book a Full- or Partial hook-up every few days.
Useful information about campgrounds
When booking at a campground, they often ask you to choose between a 'back-in' or 'pull-through' campsite. A 'pull-through' site is easier for novice drivers as it is a drive-through spot. If you are an experienced driver of large vehicles you can also choose a 'back-in' site.
Some campgrounds have size restrictions when it comes to the length of RVs they can accommodate. Most campgrounds can accommodate vehicles less than 35 feet in length.
Campgrounds close to popular tourist destinations and attractions often offer shuttle service to the attraction, so you won't have to park your RV in a crowded area.
There are many kid-friendly campgrounds, offering play areas, activities and entertainment specifically designed for traveling families.
Campgrounds in the US National Park System are often very basic, without play areas or Full Hook-up sites. However, because of their location they are very popular and booked quite far in advance.
If you prefer not to book campgrounds in advance of your travels, you can look for 'first-come-first-serve' campgrounds.
Season availability
We advise you to make a couple of reservations for Full or Partial Hook-up sites along your route, particularly if you are traveling during peak season. The campgrounds located inside or close to the US National Parks are often fully booked in advance. Many of the US National Parks' campgrounds open for reservations 3-6 months before the start of the summer season.
NOTICE: Due to COVID-19, many campgrounds are currently closed or have delayed their opening. Please check individual campground websites below for updates. Refer to our COVID-19 page for more information about rental policies.
Campground booking resources
When you are on the road
When you are on the road and you want to check campground availability or make a last minute reservation, it's great to have an app on your phone or tablet, like KOA's free app. In addition, large RV suppliers like Apollo and Cruise America offer free apps with navigation to many campgrounds in the US. And remember, the rules for camping vary by state, and these apps can be very helpful for that information too.