Winter trips with a camper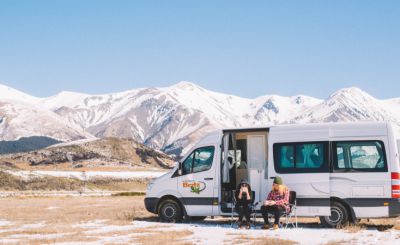 Traveling with a rental camper is not just for summer vacations. Wintertime can also be an amazing period to travel with your rental camper. Keep the following things in mind when planning a road trip in winter.
Toilet
Most campers are fitted with the water tank of the toilet below the floor. Leaving the tank exposed and vulnerable to freezing weather conditions. If you want to use the toilet during cold weather conditions it's important to fill the empty tank with anti-freeze, specially made for campers, to prevent the flaps from freezing shut. Also make sure the water and grey (waste) water tanks are never more than half full to prevent freezing. This means regular dumping of waste water and filling up the water tank. Our local supplier will help you in preparing for your winter trip and will advise you on the right products to use for the fresh and grey water tanks.
Water
If your fresh water tank is filled and in use during freezing temperatures, it's important to keep the camper warm when you are parked for the night. Our supplier Cruise America advises to keep the oven on for instance. You can use the generator for this. You will also need to flush anti-freeze product safe for campers through the water tanks. Our suppliers will inform you on the right products to use and how to use them best.
Winterized campers
Some camper suppliers do not allow any usage of the water tanks during freezing weather conditions. They 'winterize' the campers. If you do use the water tanks, a surcharge will be taken from your credit card upon returning the vehicle. If any lasting damage is found in the camper, you will have to pay for any costs incurred.
Tips for traveling in wintertime by rental camper
Keep in mind many campsites are closed in wintertime. Meaning it's a good idea to plan ahead and check your route on available campsites and facilities for campers, such as dump sites
Make frequent short drives to keep the motor running every once in a while. Don't park or camp for more than 12 hours to make sure the motor doesn't get too cold
Check if snow chains are necessary or not. Some suppliers forbid the use of snow chains, others supply these upon pick-up
Buy or bring along plenty of anti-freeze product for your windows and locks
Take the necessary precautions to keep warm at night, such as buying or taking along warm blankets
Bring along a hairdryer to be able to defrost pipes
Bring along a shovel or broom to be able to brush off snow
Check the terms and conditions of the supplier you will travel with for specific details on traveling during winter. Our customer service team can also advise you on this.