Enjoy Yellowstone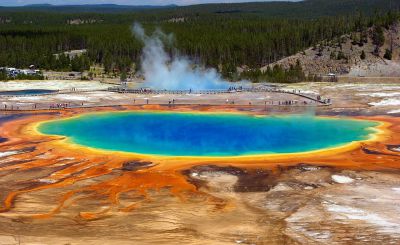 As the first and oldest national park in the United States, many have Yellowstone on top of their bucket list to visit. And traveling by RV is a great way to explore Yellowstone National Park! Wondering what the possibilities are for your RV trip to Yellowstone? We'll help you plan your RV rental and help you with some great itinerary tips!
RV rental Yellowstone
Although you cannot pick up your rental RV in the park, you have several options for pickup location that make a great route to Yellowstone. We offer rental locations in the following cities:
Salt Lake City, Utah – 6/7 hour drive
Denver, Colorado – 9 hour drive
Billings, Montana – 4 hour drive
Bozeman, Montana – 3 hour drive
Depending on your preferences, travel company and budget, you can choose between Cruise America and El Monte in these cities. Campervan North America is a great option for campervan rental. Both are a great option for campervan rental. They have various camper types, ranging from 2 tot 6 people.
RV campgrounds in Yellowstone
Yellowstone National Park has twelve campgrounds, with over 2000 campsites. All campgrounds have differences in amenities, reservation policies and RV sites. Five out of the twelve campgrounds work with reservable sites and the other seven are at first-come-first-serve basis.
Campgrounds with reservable sites:
Bridge Bay Campground
Fishing Bridge RV Park
Grant Village Campground
Madison Campground
Canyon Campground
Campgrounds with first-come-first-serve sites:
Indian Creek Campground
Lewis Lake Campground
Tower Fall Campground
Slough Creek Campground
Norris Campground
Mammoth Campground
Pebble Creek Campground
All campgrounds offer RV sites, although many are for RV's up to 30 feet. If your rental vehicle is larger, please check which campgrounds are suitable here.
RV trip to Yellowstone – the scenic route
Are you planning a trip to Yellowstone but have yet to decide which route to take? We have some tips for the most stunning scenic byways and fun sights on your way to the national park. It all depends where you start your RV vacation.
Pickup your RV in Salt Lake City
If you choose to pick up your rental RV in Salt Lake City, it is about a 2 hour en 45 min drive to Green River, Wyoming. From Green River you can visit the Flaming Gorge National Recreation Area. The Flaming Gorge reservoir is a fishing paradise and the scenic loop will give you beautiful vistas! Another must-see on your list is Grand Teton National Park, located south of Yellowstone. Drive through this stunning park with a continuous view on the Grand Tetons. Just before entering this national park, make sure you stop in Jackson for your overnight or a bite to eat.
Read more about Salt Lake City
Pickup your RV in Denver
If you start you RV trip in Denver, you are only 1,5 hour drive away from Rocky Mountain National Park. If you have the time, you can add the Black Hills in South Dakota to your itinerary. This way you finally get to see Mount Rushmore Memorial! From the Black Hills you can drive to Yellowstone via the I-90 in northern Wyoming. Add Devils Tower and the Bighorn Canyon on your list of sights to see! Just before you reach Yellowstone National Park, plan a stop in Cody. This small town not only offers a great museum – Buffalo Bill Center of the West – but is also the host of the Cody Nite Rodeos all summer long!
Pickup your RV in Billings
Billings is only an 1 hour drive to Red Lodge, Montana and from here you can drive the famous all-American Road, the Beartooth Highway, to Cooke City Silver Gate. This is one of the northern entrances to Yellowstone National Park. The Beartooth Highway is 68 miles and has more than 20 peaks over 12,000 feet, with immense views over snow-capped peaks and bright blue alpine lakes. Our supplier Cruise America offers RV rental in Billings, because this location is so close to Yellowstone.
Pickup your RV in Bozeman
In Bozeman, Montana we offer quality campervan for rent from North American Campervan. Bozeman is only 1 hour from Gardiner, one of the northern entrances of Yellowstone. Instead of immediately starting your trip by going to Yellowstone, you can also explore the beauty of West-Montana for a day or two. Ghost towns Virginia City and Nevada City are also a 1 hour drive and show you over a hundred years of Montana's history in their preserved houses, stored and even an old steam locomotive. Another tip is the Grizzly and Wolf Discovery Center in West Yellowstone (another entrance of the national park).
Are you interested in an RV trip to Yellowstone? Request a free RV rental quote and compare our suppliers and rental rates for the best RV deal!