Travel Scandinavia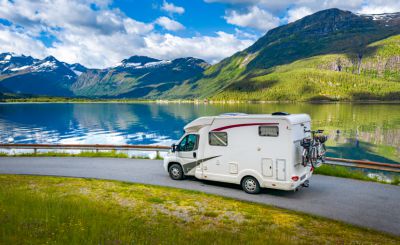 The breathaking nature is often the main reason why people embark on a RV trip across Scandinavia. you will find anything from vast forests to glacier lakes and majestic fjords to wide open spaces. During your RV trip you can easily combine the peace and quite of nature, with the vibrant cities of Stockholm, Sweden and Oslo, Norway.
RV roadtrip through Norway and Sweden
Below you can find an example itinerary for a 14-day RV roundtrip through Norway and Sweden, starting and ending in Oslo, the capital of Norway.
A tip from our staff: Book an hotel for one/two nights in Oslo before picking up your RV. This gives you a bit of time to get used to a different climate, get over your jetlag and do some exploring in the city center of Oslo. After settling down you can pick-up your RV and start your travels through Scandinavia. You can also opt to add a day or two in Oslo after completing your roundtrip, to do some exploring of the city then, before flying back home.
Day 1: Oslo -> Lillehammer - 186 kilometers - 2h 15min
Pick up your RV in Oslo, with our renowned supplier Touring Cars or McRent. From Oslo you will start your journey travelling North towards Lillehammer.
Day 2: Lillehammer -> Fåberg - 8 kilometers - 12min
Spend today to visit the Hunderfossen amusement park, which is known for its many traditional Norwegian fairytales.
Day 3: Fåberg -> Røros - 244 kilometers - 3h 20min
The tiny city of Røros is on UNESCO's world hertiage list. The small city is in fact one large open air museum. You can visit the 350 year old mine and church. Fun fact, this church belongs to the top 10 most important churches of Norway.
Day 4: Røros -> Sonfjället National Park - 164 kilometers - 3h
Today we cross the border to Sweden and drive up to the Sonfjället National Park. This is one of the first national parks in Europe and is known for its extraordinary nature. With a bit of luck you can spot bears, wolves, elk or even a lynx.
Day 5 & 6: Sonfjället -> Delsbo -> Hudiksvall - 216 kilometers - 3h 30min
On route to Hudiksvall you pass by Delsbo. in this small town you can follow a very unique bike trail alongside an old train track. Morover you can visit the Söderhamn Fighter Jet Museum. With Hudiksvall you've reache the Eastern coast of Sweden, the Botnisc bay. You can find here some traditional fisher houses.
Day 7: Hudiksvall -> Uppsala - 180 kilometers - 1h 50min
Uppsala is a true university city, bursting with art and culture. Here you can enjoy a full day of strolling around the city center. When in the area you can visit the museum of Sigtuna, which dates back to the time of vikings.
Day 8 & 9: Uppsala -> Stockholm - 72 kilometers - 1h
Up next, Stockholm, the capital city of Sweden. Enjoy the city and all the seperate islands it's build on. One island in particular is worth a visit, namely: Gamla Stan. this old part of the city has various city parks and colorful buildings. Since there is so much to see and explore here you should take at least 2 days to take in everything.
Day 10: Stockholm -> Lindköping - 200 kilometers - 2h
We drive further south towards Lindköping. A city that breaths history and the perfect gateway to Kolmården Wildlife Park. This is one of the better Zoo's among zoo's, with over 600 animals from all over the world. There is a Safari Gondola, a dolphin show and a special exhibit to see the tiger up close.
Day 11: Lindköping -> Varberg - 300 kilometers - 3h 20min
While driving from Lindköping to Varberg you will pass by Vättern, the second largest glacier lake of Sweden. When you've arrived in Varberg you can't miss Fort Varberg, a fortress that was used as a prison until the late 30's, but has existed for a much longer period of time and plays a huge role in Scandinavia's history.
Day 12: Varberg -> Marstrand - 120 kilometers - 1h 30min
Marstrand, the pearl of the Swedish West-coast, is a small island and a sailing capital. Many sailing competitions take place here throughout the year. On the top of the hill you find Carlsten Fortress, which dates back to the 17th century.
Day 13: Marstrand -> Trollhättan - 86 kilometers - 1h
In Trollhättan you must pay a visit to the waterfalls. You can either walk along the waters edge or view them from up high in a cable car.
Day 14: Trollhättan -> Oslo - 256 kilometers - 2h 40min
On the final day of your RV roundtrip you will make your way back to Oslo, while passing by Nordic town Kløfta. Spend the rest of the afternoon exploring Oslo before flying back home.
Wish to extend your trip? You can prolong your traveles by extending your trip further south and briefly crossing the border to Denmark to pay a visit to the beautiful Kopenhagen. Or, if you have even more time on your hands. Drive way up north and add Finland, plus a visit to Christmast town Rovaniemi, to your RV roadtrip.